Fashion as Design
The MoMA held course ( https://www.coursera.org/learn/fashion-design/home/welcome ) asked us to write something about our garment.
This was my piece: Working mum's black skirt and accessories outfit in the 80'ies
"Pieces of my garment - they usually have a long life and made from natural materials: - black leather pencil skirt (black sheepskin, softened and cleaned regularly with glycerin) nature coloured leather bag-pack (I used it for 15 years after some alterations) turtle neck lambswool jumper in every colour. As a mother a three and woman with a decent job — teaching architecture in Budapest Technical University - I usually did not find it easy to dress up in the morning for the long day. I had no choice to change during my day, so every morning I had to decide what to wear for taking the kids to the school by tram and walking, then taking another tram to the university, and doing a long day there, to meet colleagues, go to meetings, go to the lecture room give a lecture to 200 students in the afternoon, then go back to pick up my kids and do the shopping. We are living in the capital, in the dense area, and having a car was useless regarding parking problems. So I had to carry all the things with me.
Here is the list your garment had to fit in every morning:
- comfortable to wear the whole day in any circumstances,
- looking neat and professional and easy to move in — taking the kids, up-down the trams, taking the stairs in the Univ.
- creates a nice silhouette - I had an EU 38 size figure — sexy a bit, but not too much because my fellows were 80 per cent middle-aged man (Technical University in Hungary in the 80'ies )
- looking modest in the university in front of the students and the meetings
- expressing some new-wave ideas, and coolness — regarding the lots of Univ. students and young adults, modern ideas in architecture form Bauhaus to Koolhas
- if happens to go to a project meeting I needed to carry my laptop,
- also, I needed some jewellery.
After a few years — it really took me years to crystallised — my most comfortable choice was the black pencil skirt (it soon become the leather as the most durable, even the toddlers cannot spot it, I used my first leather one for 8 years) and a nice turtle neck jumper, usually in a very bright colour. The tights and coats depended on the weather. It was rather pricy that time of my life but turned out very durable. (This remember me to the little black dress you have to have and during the life, you can add something more up-to-date accessories like jewellery, bags, hairstyle.)
So this was my 'little black dress' for the working days as a working mum. In the morning I packed my small case to the leather backpack, dressed for the day, and take my accessories for the afternoon.
It used to be: a silver bracelet and flash rings (never earrings, I do not find it convenient with kids), these were usually choices from Ireland, Greece or Mexico, or my own Hungarian silver, in very rare occasion my antique gold watch what I inherited) silk or velvet jacket - if some reason needed to look like a more professional. Other occasions I had a colourful carpet-like woven jacket in wintertime, or 'Chanel-style' colourful jacket for springtime.
It turned out, that this garment has a long life with me, I even use it today for some reason."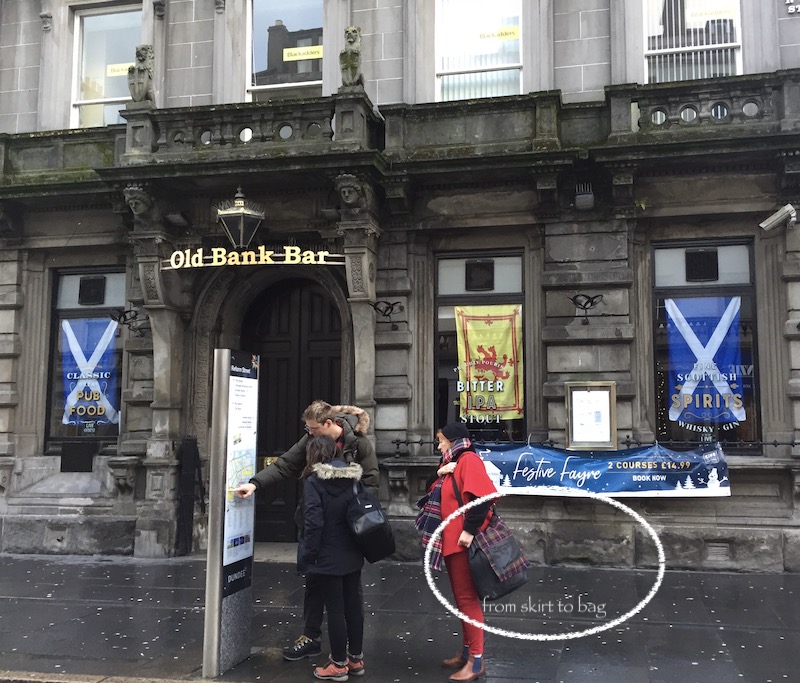 PS The black leader skirt from 80'ies now is altered to a bag. Its life extended again.
Written on May 27, 2020