Colors or not colors?
Recently I decided to replace all my kitchen textile stuff. It was a good study on how to use the new 8 shafts Ashford loom.
I have some old tablecloth from my grandma, and one particular is extremely handy and has good size for a table of 6-8. She got it for her wedding from one of her family member. So it is about a hundred years old, in perfect condition, the red is a bit faded now but the natural white flax for weft and hemp for warps is even nicer after every wash. It was in my mind to create something reflecting this piece of textile.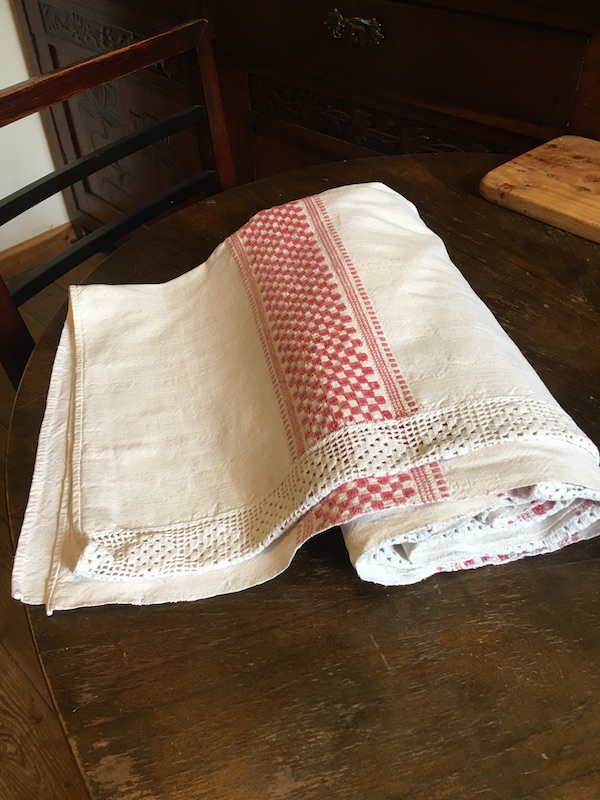 The first group I started working on was a classic style red and natural flax with a bit of grey. My first idea was to adjust these colours to my kitchen with a few simple twists and patterns. I finished four teatowels and transformed one for a bread bag (red-grey-flax). For the bread bag, I made a string and for the towels laces on my inkle loom.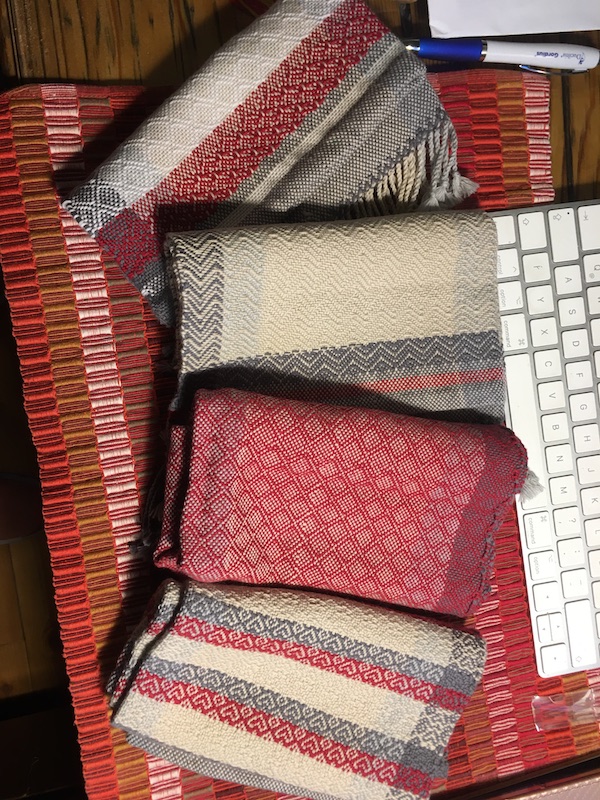 My impression was that maybe I have to use lighter colours, and for the next four teatowels I used white-ocher-sand coloured cotton and complex patterns. I find this towels a bit too schematic despite the elaborated patterns. (In practice the patterns are working well to absorb the water, and I happy to use these towels for simple hand drying.)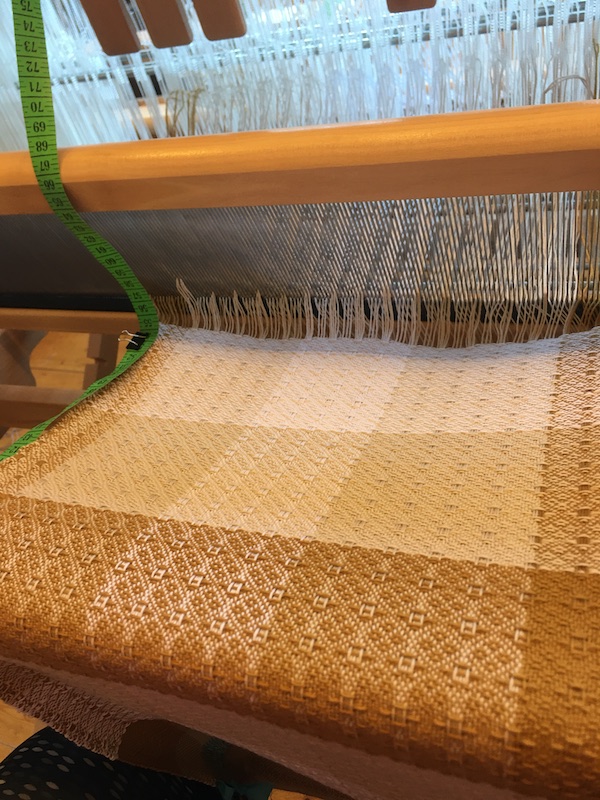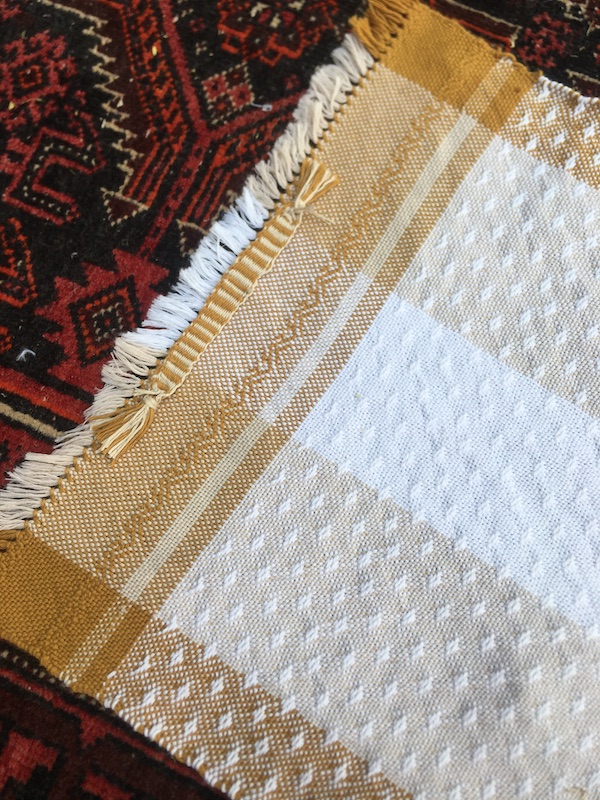 I was not extremely satisfied with my work and very soon I dressed my loom in green, lighter green, natural sand, red and natural white according to a complex pattern. The first day was for the greens, so after a few cm of reds, I followed with different greens and was happy to finish the piece. Next morning I started with orange-red-pink- dark red and salmon-like colours. The following day I used light blue - light pink - light green. I finished the three pieces, put on the table on the terrace and I did not understand myself. But okay, it was done, I have to finish, so I hemstitched, made the strings, washed and ironed.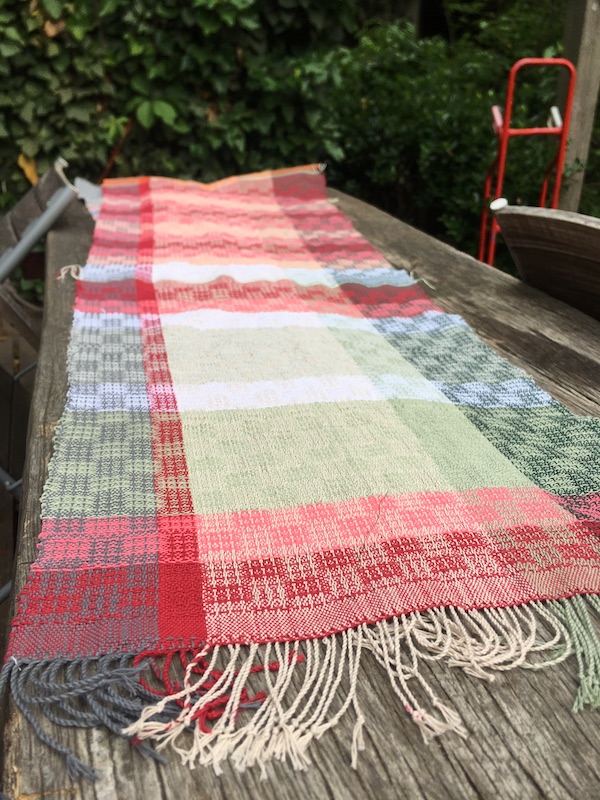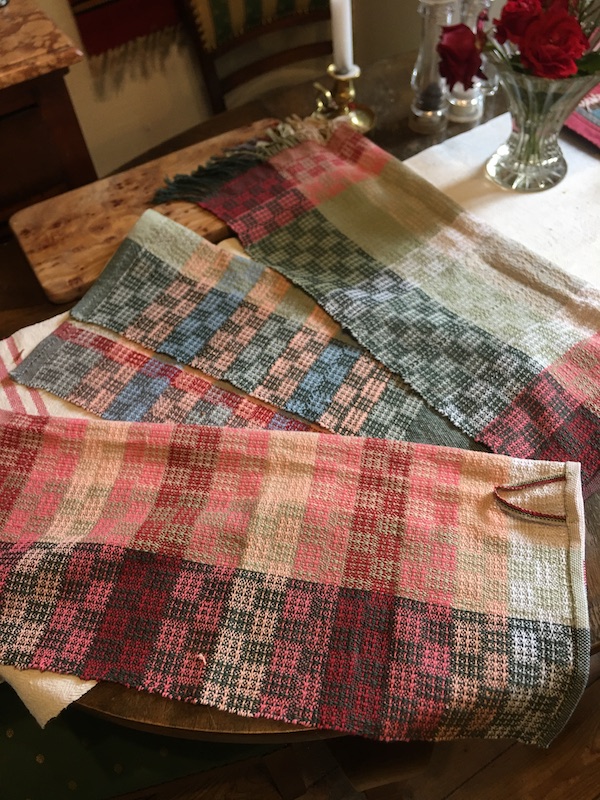 I had these last three towels together and was checking my recent photos, and that was the moment when I understand my colour use. It was a garden, in late May, the different greens from the leaves, the reds, pinks and oranges from the roses, and the blue from the sky and the pond reflecting the colours. Sentimental but it was instinctive, I had lots of time in the garden this May, more than ever and I was soaked with the impression from there even I was not intending to.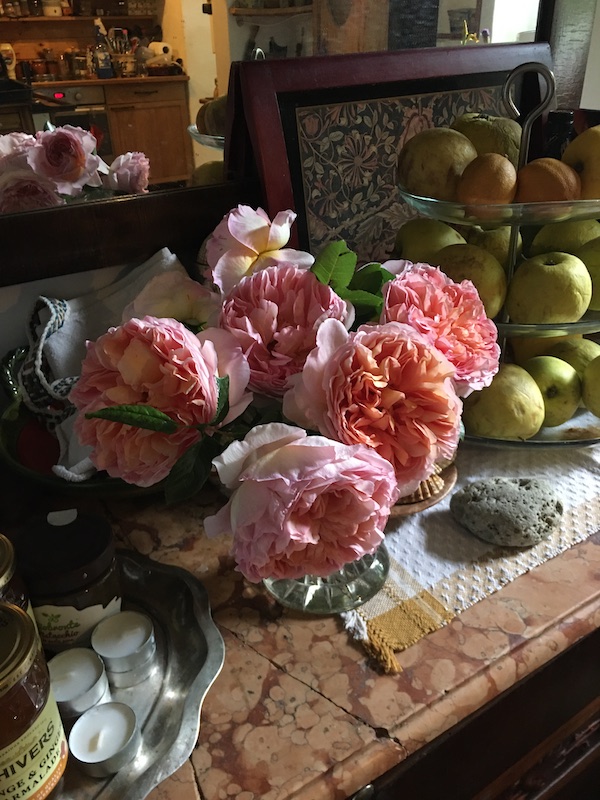 Somehow I can connect these pieces to my old tablecloth.
Written on June 5, 2020